Cultural Agenda
Discover our events right now!
Whether it's online or on stage, we have something for everyone: debates, contests, concerts, cinema, plays, shows for the little and the big ones…
Events calendar
All events depends on collaboration with artists and the Alliance francaise network
Janvier / January : 
Green Month 
L'alliance fait son cinéma / The alliance makes its cinema
Fevrier / February :
Chandeleur – soirée crêpe / Candlemas – pancake night
Carnaval / Carnival
Mars / March :
Mois de la Francophonie / Month of the Francophonie
Rencontre avec les écoles / Meeting with the schools
Avril / April :
Paques / Easter
L'Alliance fait son cinema / The Alliance makes its cinema
SESSION DELF
Mai / May :
Collaboration avec le European Film Festival / Collaboration with the European Film Festival
Juin / June :
Fête de la musique
 Juillet / July :
14 juillet
Travel with me…
SESSION DELF
Août / August :
Garage sale
Travel with me
Septembre/ September :
Open day
Back to school
Octobre / October :
Mois du Kreyol / Kreyol Month
L'Alliance fait son cinéma / The Alliance makes its movies
Novembre / November :
Journée Internationale du prof du francais / International French Teacher's Day
Beaujolais Nouveau – Wine and Cheese
OPENING OF ASSISTANTSHIP PROGRAMME
Décembre / December :
Marché de Noel / Christmas Walk
SUBMISSION OF DAP FORMS
SESSION DELF
This year, in 2021, the Alliance française of Trinidad & Tobago was celebrating its 70th anniversary. To end this anniversary, we have prepared a video for you. Thank you to the people who answered our questions.
Happy Birthday to our beautiful Alliance Française !
JPF 2021 : Journée du Professeur de França

is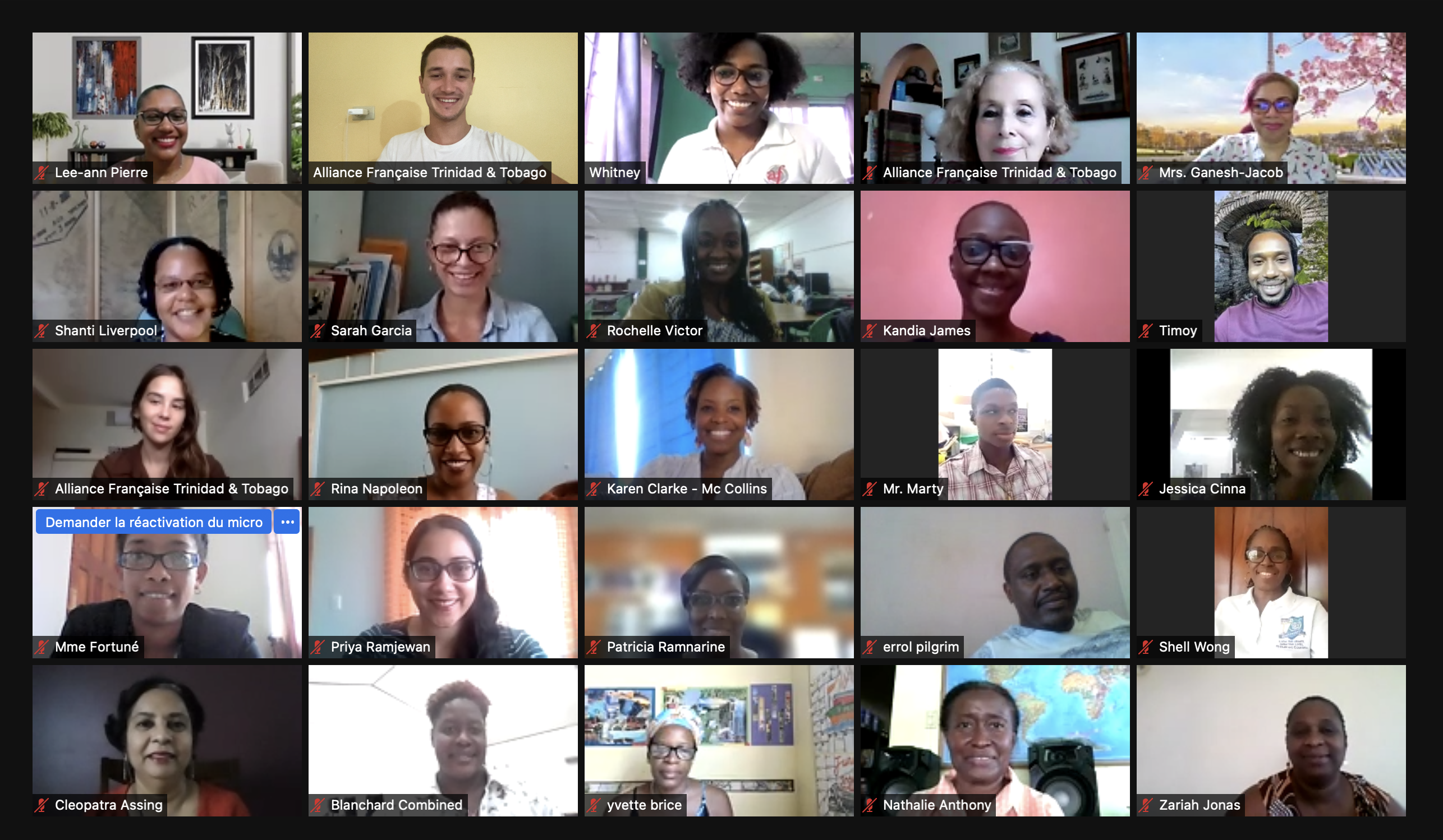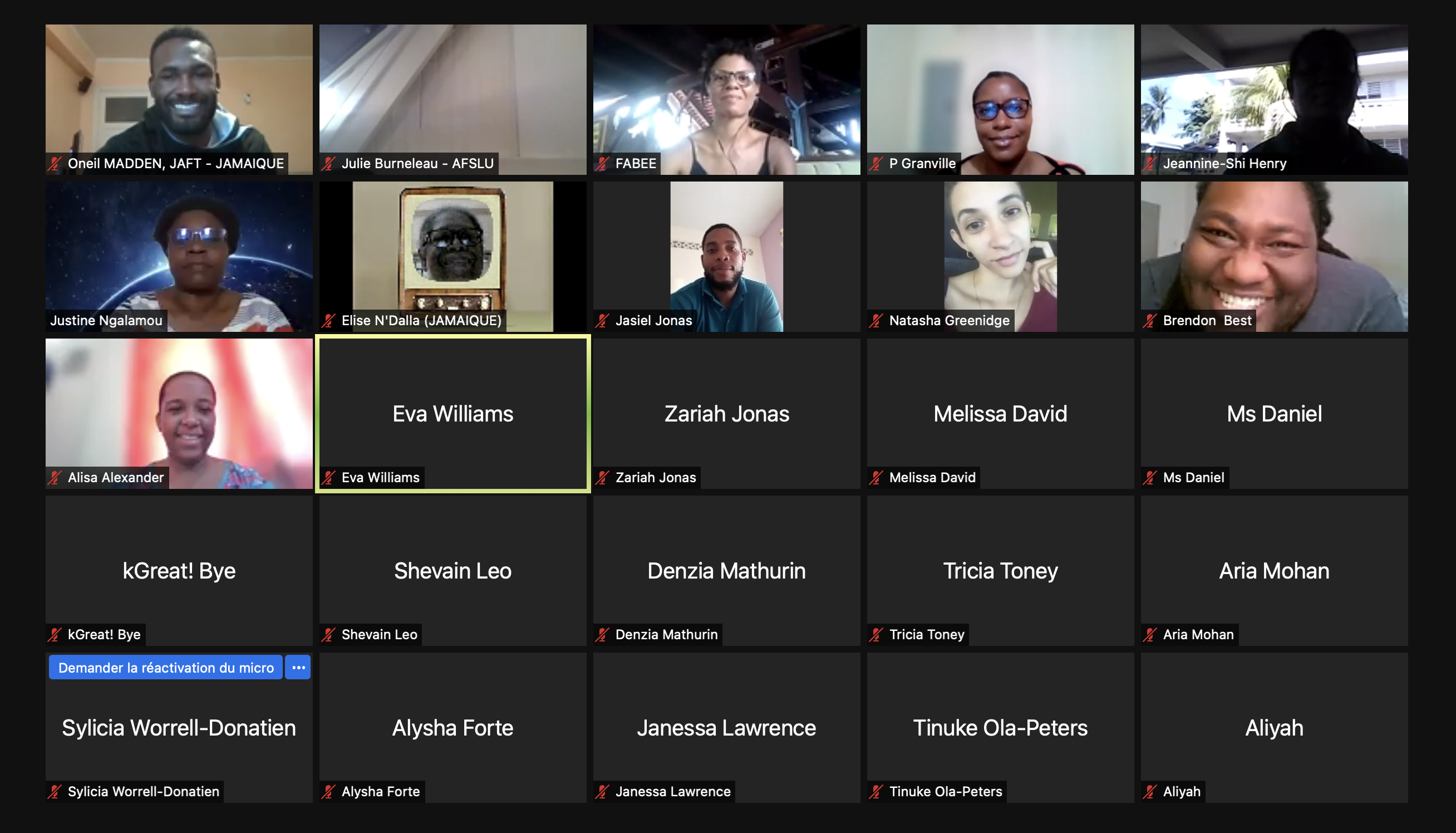 This is the last video of the Patois month.




Discover the association of Bois Academy. We decided to end the Patois month with a little cultural reflection around the Stick Fighting in Trinidad, an important element of Caribbean culture.




Kalenda or Kalinda is a sacred martial tradition also known as stick fighting in Trinidad and Tobago. For the practitioners of Kalenda/Kalinda it is a way of life like many other martial arts globally.




We thank them very much and invite you to follow their work on their respective pages !  

@boisacademy
I

n the last week of October, discover the assoc

iat

ion Mayoleurs du Moule. We dec

ided to do a l

ittle 

reflection around the St

ick F

ight

ing, an 

important element of Car

ibbean culture. Or

ig

inat

ing 

in West Afr

ica, 

in countr

ies such as Ben

in, the Mayolè 

is a trad

it

ional st

ick dance very close to a mart

ial art. 

I

t emerged dur

ing the per

iod of slavery 

in Guadeloupe. Although 

it

 

in

it

ially 

appeared 

in the commune of Sa

int-Franço

is,, 

it 

is now ma

inly 

pract

ised 

in the commune of le Moule, notably because of the death of many pract

ioners dur

ing the F

irst World War. We thank them very much.
The Alliance française of Trinidad-and-Tobago honours Tr

in

idad

 Pato

is

The first tale is :Pwan T

i Ban la 2013 

Sizé Tr

in

idad Pato

is Story read by Nnamd

i Hodge.

The second Tale 

is a Tr

in

idad Pato

is story read by Abr

ianna Mathew, student at All

iance. 

The last tale is :  Conte Kompe T

ig ep

i Komple Lapen Tr

in

idad read by Erasmus Franc

is Romany
The Alliance française of Trinidad-and-Tobago honours the famous storyteller : Benzo.

Teacher, storyteller, actor, musician, Benzo (Benjamin Moïse) lives in Capesterre, Guadeloupe.

For the past fifteen years, he has participated in an impressive number of cultural events: theatre productions, children's programmes, participation 

in various storytelling festivals etc.

 

The first tale is : « Zamba vlé manjé Lapen – Zamba wants to eat the Rabbit »

The second v

ideo 

is 

Benzo is teaching us some Creole (Patois) with a simple and effective technique that he created !

The second tale is :  « Mr Hervé's chicken ».

The Alliance française presents Ms. Terez Léotin.




In those videos, you will discover who is this talented Martinican writer, learn more about her work and why she writes in Creole. She will also tell us more about her vision of the Creole language. The Tale : Grounou'y é Fonmi


We thank her very much and invite you to follow her work on : https://www.editions-harmattan.fr/index.asp?navig=auteurs&obj=artiste&no=2263
The Alliance Française of Trinidad and Tobago hopes you enjoyed the summer of 2021 with Camille, Hannah, Eleonore and Hilary.
Discover again and again France and the French Indies
 FÊTE DE LA MUSIQUE

We hope you enjoyed "La fête de la musique 2021" with Alliance Française. Thanks to our talented artists : Annalie Prime, Fred Deshayes, Methi's.
If you want to watch their wonderful performance again and again, just click on the videos.
Enjoy !
News
Follow us on Instagram